Independent learning centre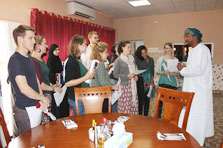 The aim of the Independent Learning Centre (ILC) is to assist students in developing independent learning skills.
Sultan Qaboos College ILC
is spread over 3 areas: ILC Resource room, Conversation room and Computer Lab. At the beginning of each intake all students receive an orientation session to familiarise them with the resources and how best to use them.
In each of the 3 ILC areas there is a teacher to help students with their work. Also, there are useful websites for self-study that you can access to help you develop your independent study skills.
ILC Facilities
The ILC is equipped with:
A library of DVDs to improve listening and comprehension skills.
Resources for pronunciation and listening comprehension skills.
A Computer Lab for research.
Print-based resources which the students can take home and practice their English.
Daily newspapers.