Courses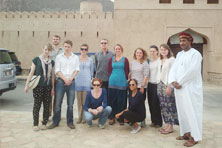 The Arabic Language does acquire an exceptional importance in the field of studies and programs offered by educational institutions nowadays. That significance comes as response to the increasing demand on learning Arabic by learners from different countries, and to the international openness towards other cultures including the Arabic culture. In addition, there is an increasing interest in strengthening communication and exchange between the Arab peoples and other people of the world which consequently requires linguistic knowledge.
The Arabic language gains a special importance in the Sultanate's cultural approach too, both at the local and global level. This is manifested in the great attention given by
His Majesty Sultan Qaboos bin Said -may Allah safeguard him
– to Arabic language in everything that foster and spread the language around the world. That interest is reflected in establishing chairs for Arabic language studies in a number of foreign universities. This comes as no surprise for Arabic is the official language of the Sultanate, the language of education, the language of communication between the Sultanate and all the Arab countries and above all; it is the language of Holy Qura'n.
His Majesty's– may Allah safeguard him
– desire and will in establishing a college for teaching Arabic to non-native-speakers comes as an emphasis to the attention that Arabic receives from His Majesty and as a response to the era's requirements and obligations of the global openness between nations.